Manufacturer: Scotts
SKU: 119434
Model Number: 76121
Scotts Turf Builder Edgeguard Mini Broadcast Spreader features new Edgeguard Technology, protects your landscapes and environment by keeping product out of your waterways and off of driveways. Just fill with fertilizer & go!
Manufacturer: Scotts
SKU: 354735
Model Number: 71133
Ergonomically designed, reduces wrist fatigue, Rustproof hopper and agitator, Great For Applying Fertilizer, Grass Seed, & Ice Melt.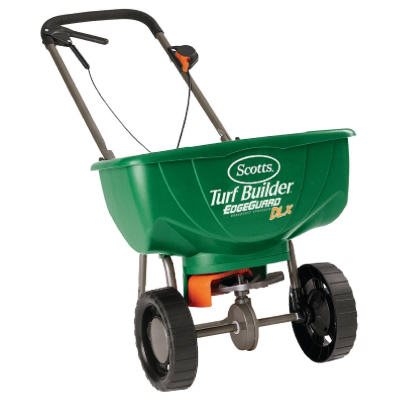 Manufacturer: Scotts
SKU: 107321
Model Number: 76232
Scotts Turf Builder Deluxe Spreader holds up to 15,000 sq. ft. of fertilizer. The new Edgeguard feature keeps product off your landscaping, driveways, sidewalks and waterways.